GARDEN BLOG
Refrigerator Pickled Vegetables
Cucumbers are just the beginning to pickled veggies and fruits.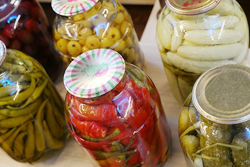 Pickling is a great way to preserve your harvest of fruits and veggies come July and August. Beans, garlic, radish, pepper, squash, onions and tomatoes are just some of the veggies you can easily pickle. The following recipe doesn't call for any canning tools because these will be refrigerated instead of canned.
Quick Pickled Vegetables
Ingredients
Servings - 2 quarts
Enough fresh raw veggies to fill two-quart size Mason Jars (about 6 cups)- beets, carrots, radishes, turnips, cucumbers, okra, green beans, asparagus, red onion, zucchini or summer squash, cauliflower florets, bell peppers, garlic scapes, fennel bulbs.
2 teaspoons fennel seeds
1 teaspoons mustard seeds
6-10 cloves garlic - sliced thickly
½ an onion sliced (optional)
few sprigs fresh dill (optional) or other herbs
Pickling liquid:
2 cups vinegar - white, red wine, rice wine, apple cider
2 cups water
2 tablespoons kosher salt
4-6 tablespoons sugar
Instructions
Prep your veggies. Wash them well and slice, quarter, or cut into spears, or leave whole (like with green beans, asparagus, okra, etc.).
Bring the water, vinegar, salt and sugar to a boil in a small pot, and in the mean time pack the jars.
In two-quart size mason jars, divide the garlic and whole spices.
Begin adding the veggies and if you are including the onion (recommended), layer a few slices in with the veggies along with any fresh herbs you would like to include you can also layer the garlic this way too, or put it in first, your choice) leaving about an inch at the top of the jar.
Using a funnel, carefully pour the hot liquid into the jars, making sure to submerge all the veggies, pressing down on them with the end of a wooden spoon. You may be able to add more veggies at this point, just make sure the liquid completely covers the veggies leaving at least a half inch of room between the liquid and lid.
Cover and let sit on the counter to cool, and after an hour or two, place in the fridge. These will taste good after 6-8 hours, but much better after a couple days. Keeps up to three weeks.
Recipe via FeastingAtHome.com