Our goal is to be a leader in the area of environmental responsibility and sustainable business practices. We recognize the importance of sustainability with regard to environmental, social and economic concerns in our daily operations and are dedicated to responsible use of environmental resources.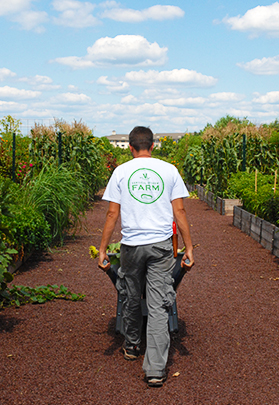 Our green PHILOSOPHY
We aim to deliver solutions that leave a lasting impression on our clients, but not on the environment.
Businesses "going green" may seem like a trendy notion these days, but to us at Vertical Screen it is a core part of our mission. We are committed to making environmentally conscious decisions a fundamental part of how we conduct our day-to-day business.
In support of this commitment, we strive to reduce our use of energy, fuel, water and materials, and we explore and use options for the reuse, reduction and recycling of materials. Every Vertical Screen employee is tasked with being a partner to recognize new opportunities and assist with the implementation of sustainability solutions. So, just by coming to work every day, our employees are part of an effort to reduce the company's use of natural resources.
Through our sustainability initiatives, we have been able to significantly reduce our energy and resource use. Our green philosophy benefits both the planet and our bottom-line.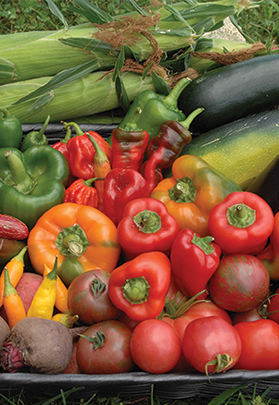 VERTICAL SCREEN GARDEN
Since the spring of 2013, the Vertical Screen Garden has offered employees an outlet to learn basic gardening principles and apply those principles to organically grow their own food in one of our 144 employee raised-bed garden plots.
Vertical Screen employees take home half of the fruits and vegetables from their gardens, and the other half is donated to local food banks. Since the outset, our open-to-everyone company gardens have been very successful and a shining demonstration of our commitment to sustainability.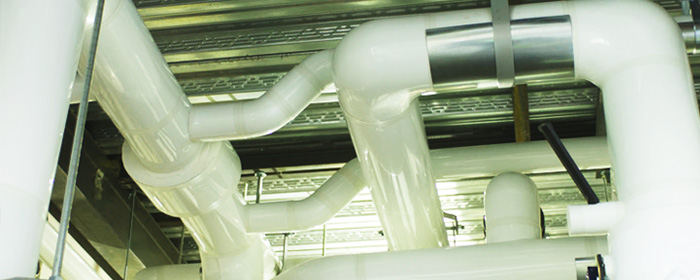 Geothermal HVAC System
Our geothermal heating, ventilation, and air conditioning (HVAC) systems provide heating and cooling to the building using the Earth's constant temperature of 55 degrees. Its three major elements include:
A closed ground loop consisting of 64 wells drilled 500 feet deep in the ground; a system of water and anti-freeze-filled plastic piping loops through the wells and terminates inside the building.
A heat pump that exchanges and concentrates heat and cold from fluid in a piping system that loops through the wells.
An air delivery system made of conventional and cloth duct work and copper tubing that distributes hot and cold air throughout the building.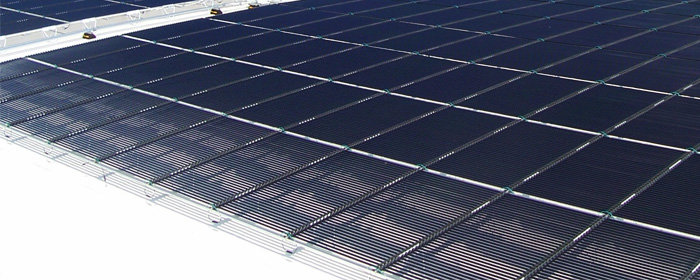 Solar Array
We have installed a solar photovoltaic array on the roof of our building. Because our requirements included a solar array capable of utilizing our roof's white surface, as well as an installation that required very few roof penetrations, we selected a unique, cylindrically designed solar panel from a company called Solyndra (yes, the Solyndra that you've heard about in the news).
The product performs wonderfully. This unique design captures sunlight across a 360-degree photovoltaic surface, which generates power more efficiently because it captures direct, diffuse and reflected sunlight. The design also works better in inclement weather conditions involving snow, dust and wind.
Our array is comprised of 900 panels, with each panel containing 40 cylindrical modules. The array produces 163 kilowatts of power, providing about 20 percent our total electricity needs.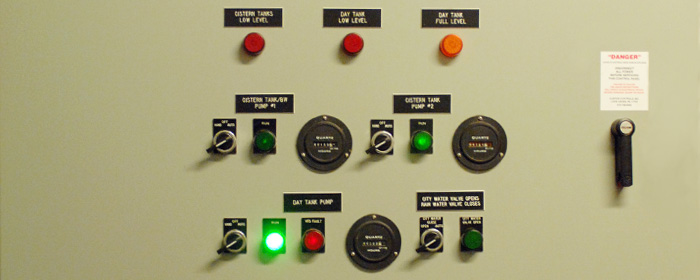 Rainwater Harvesting
Bathrooms consume the vast majority of fresh water in any office building. To help save this precious resource, we flush our toilets and urinals with rainwater that is collected using a rainwater harvesting system. Here is how our rainwater harvesting system works:
First, we collect rainwater runoff from our large, curved roof through gutters connected to downspouts, which are piped to an underground storage tank.
Next, we store the collected rainwater in a 15,000-gallon underground storage tank for later use by the building. The system also utilizes a 1,500-gallon day-tank that serves up the rainwater to the building on-demand.
Finally, we filter the rainwater using multi-media particulate and ultraviolet filters. Once filtered, the rainwater is pumped to our bathroom fixtures as needed. We also use this water to irrigate our indoor green roofs and living plant wall.
Through rainwater harvesting and the use of low-flow toilets, urinals and faucets, we have reduced our building's fresh water usage by more than 75 percent.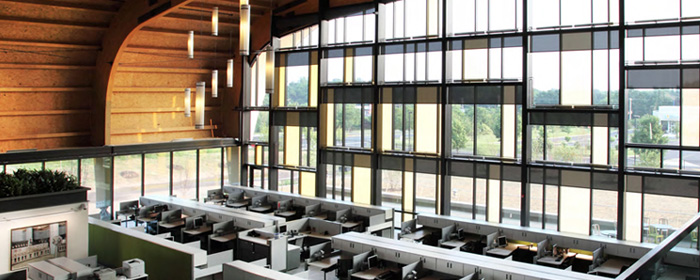 Daylight Harvesting
Lighting is the single largest consumer of electricity in an office building. Therefore, the simple idea behind daylight harvesting is to reduce the need for artificial light through the use of natural daylight. Here is how we dramatically reduce our building's consumption of electricity for lighting:
Our building's design incorporates many internal and external glazing systems. More than 90 percent of our building's regularly occupied spaces provide a direct line of sight to the outdoor environment via vision glazing.
With ample external glass on three sides, including 40-foot-high glass curtain walls on the building's east and west sides and a 10-foot-high glass south wall, the building lets in natural light while providing picture-perfect views of the countryside. In addition, all offices and meeting spaces have external and/or internal glazed openings, allowing both direct and indirect access to natural daylight.
To take full advantage of natural light, we located many lighting sensors around the building, which constantly monitor light levels. These sensors inform our Building Automation System (BAS), which automatically dims and/or turns lights on and off based on the lighting levels reported by the sensors. This system ensures that only the exact amount of artificial lighting is enabled to fulfill the real-time needs of the building occupants.
Natural lighting can also have some unwanted effects, such as glare and harsh sunlight. To control for this, we installed an automated window shading system that deploys shades on the external windows when needed. Internal and external sensors, as well as a database of lighting condition measurements of our building's location, inform our BAS, which controls the window shading system and blocks any glare.
Through our daylight harvesting system, automated lighting occupancy sensors and the use of Light-Emitting Diode (LED) lighting and Compact-Florescent Lighting (CFL), we have reduced our building's lighting electricity use by more than 50 percent.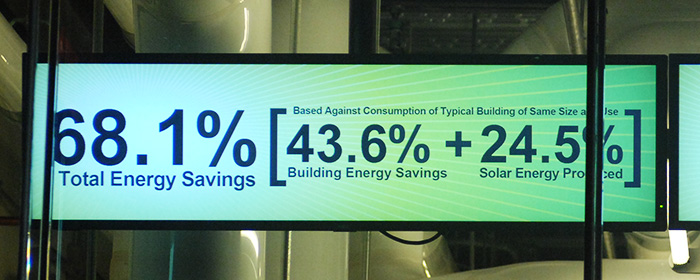 Building Automation System (BAS)
The BAS is the brain of our building's mechanical, lighting and shading systems. This system, comprised of a complex network of computers, sensors, meters and software, works to minimize the building's energy and resource use while keeping the building's occupants comfortable. Our BAS constantly monitors, measures and reacts to more than 250 data points thoughout the building to accomplish this goal.
The BAS also provides detailed, real-time reports about energy use. This not only helps to run the building more efficiently, but also to broadcast our energy savings to visitors as part of our educational mission.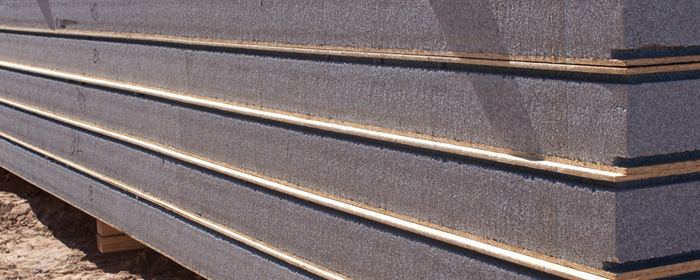 Structured Insulated Panels (SIPS) Roof Deck
SIPs are a factory manufactured building system consisting of an insulated foam core sandwiched between two structural facings or skins. SIPS can be used in the construction of walls, as well as roofs.
Our SIPs roof deck system, which was manufactured specifically to fit our engineered design, is composed of an 8 ¼-inch layer of Neopor foam between two oriented strand board (OSB) facings. The resulting structure is very strong, air-tight and extremely energy efficient, with an R-value of 38, thus helping to provide a very energy efficient building envelope.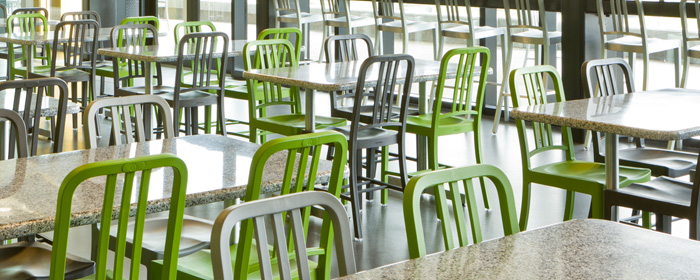 Recycled & Rapidly Renewable Materials
A great deal of thought went into the type of materials we used in our building's construction. Many of the materials are made from recycled content or from rapidly renewable materials. Rapidly renewable materials — unlike those made from petroleum, which is non-renewable, or old-growth timber, which takes centuries to renew — have very short harvest cycles (10 years or less) and require less energy and fewer resources to produce.
Examples of recycled materials used in our building include:
Carpeting made from used car tires and other recycled materials
Countertops made with discarded and recycled glass
Café tables made from scrap machine-shop metal shavings
Chairs made from Coca-Cola plastic bottles
Concrete with byproduct fly ash or slag composition
Building slab and parking-lot underlayment made of discarded, crushed masonry
Examples of rapidly renewable materials used include:
Cork flooring (live-harvested from cork oak trees)
Linoleum flooring (made from linseed oil, wood flour, cork dust and pine rosin)
Bamboo doors, counters and cabinets
Wheat board (wheat stalk) cabinets
Kirei Board (sorghum stalk) toilet partitions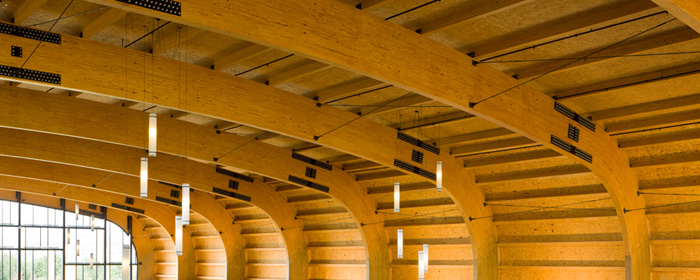 Forest Steward Council (FSC) Wood
More than 50 percent of the wood used in our building is Forest Stewardship Council (FSC) certified. The FSC certification process ensures that the source of the wood utilizes careful, responsible and long-term forest management principles.
An example of the FSC certified wood used in our building are the 11 glued laminated timber arches called glulams that support the roof structure. Each glulam spans 140 feet and weighs 44,000 pounds.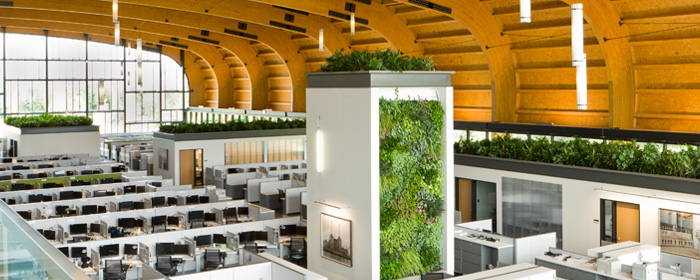 Other Green Building Features
We are located on the former U.S. Naval Air Warfare Center site, so instead of building on virgin land, we chose to redevelop an existing brownfield site.
Mass transportation is easily accessible from our building, with two bus routes and a regional rail line nearby.
There are many community services within walking distance of our building, including stores, banks, child care and medical offices.
We encourage our employees to ride their bikes to work by providing bike racks, changing rooms and shower facilities.
We encourage the use of low-emitting and fuel-efficient vehicles by designating choice parking spots for those types of vehicles.
No potable water is used to irrigate our landscape.
We utilized materials that emit no or low amounts of volatile organic compounds (VOCs), such as paints, adhesives and carpets, in the construction of the building.
We have installed indoor and outdoor green roofs and an indoor living plant wall.
We use ENERGY STAR-qualified appliances, vending machines, computers, printers and copiers throughout the building.
We developed and implemented a green housekeeping program.
No bottled water is served in our cafeteria or pantries. Instead we provide specially filtered, chilled tap water.
With its new headquarters, Vertical Screen is clearly moving business forward by putting the needs of people and planet first.
Vertical Screen differs from many green buildings in that the energy-saving measures are thoroughly embedded in the structure of the design, rather than applied to the surface.
Vertical Screen went further to provide not only a visually stunning work atmosphere, but an environment that fosters employee health and well-being.
A new paradigm for corporate office space.