GARDEN BLOG
Versatile Beets
Beets are such a versatile crop to grow. Not only do you have a wonderful root crop to harvest in about 55 days but the leaves are also one of the more nutrient rich greens you can eat!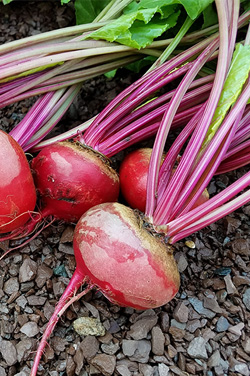 When planting a row of beets, sow them thickly to ensure good germination and so you have extra plants to thin out as baby greens (or you can even just sow them for the greens). Best of all, the greens have a similar taste to Swiss chard or kale. August is a great time to sow beets for a fall harvest.
Here's a simple recipe for beet greens.
Simple and Delicious Beet Greens
Prep 10 min
Cook 10 min
Ready in 20 min
Ingredients
2 bunches beet greens, stems removed
1 tablespoon extra-virgin olive oil, or to taste
2 cloves garlic, minced
1/4 teaspoon crushed red pepper flakes (optional)
salt to taste
freshly ground black pepper to taste
2 lemons, quartered
Directions
Bring a large pot of lightly salted water to a boil. Add the beet greens, and cook uncovered until tender, about 2 minutes. Drain in a colander, then immediately immerse in ice water for several minutes until cold to stop the cooking process. Once the greens are cold, drain well, and coarsely chop.
Heat the olive oil in a large skillet over medium heat. Stir in the garlic and red pepper flakes; cook and stir until fragrant, about 1 minute. Stir in the greens until oil and garlic is evenly distributed. Season with salt and pepper. Cook just until greens are hot; serve with lemon wedges.