GARDEN BLOG
Edible Flowers - Chamomile
Some of those pretty flowers you see in your garden can be put to use!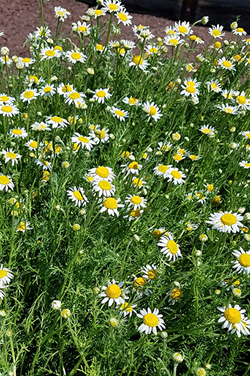 Chamomile flowers are one of my favorite edible flowers. These flowers can be steeped in water to make a lovely tea. They can also be used to make skin lotions and salves. Pick flowers that are just beginning to open.
Here's a great recipe for tea:
Ingredients
Servings - 2
2 tablespoons fresh chamomile flowers
2 cups boiling water
2 slices apples (thin slices)
honey
Directions
Rinse the flowers with cool water.
Warm your teapot with boiling water.
Add the apple slices to the pot and mash them with a wooden spoon.
Add the chamomile flowers and pour in the 2 cups boiling water.
Cover and steep for 3-5 minutes.
Strain the tea into two cups.
Add honey to taste.
Drink and enjoy!
Recipe via Food.com