GARDEN BLOG
Love Cilantro? Grow your own!
Cilantro is definitely one of those love/hate foods. Personally, I have grown to love it. I am huge fan of Mexican food and you can add cilantro to so many Mexican dishes.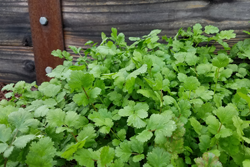 Cilantro can be a little troublesome to grow. Its growth is very much dependent on the temperatures of the season. If sown in late March or early April you have a good chance of success. It can be sown later in the season but prefers cooler soil.
The problem with cilantro is that it loves to bolt (or set flowers) in warm weather. Once the plant sets flowers the flavor of the crop can be quite bitter.
To continually harvest cilantro through summer you should sow a new crop just about every week or two. This ensures new crops of fresh leaves are always available. Make sure to sow some about 45 days before your tomatoes are ready for harvest for making fresh salsa.