GARDEN BLOG
End of summer meals from the garden
Summer may be winding down but there is still plenty of time and ways to enjoy freshly grown tomatoes from your garden!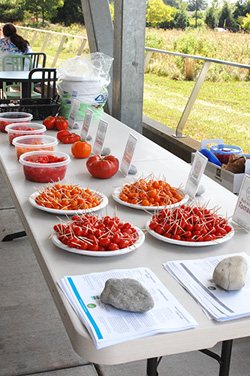 These two recipes for Caprese salad and roasted tomato sauce will give you a pair of simple options to utilize your summer tomato harvest:
Caprese salad
INGREDIENTS
> 4 cups Tomatoes > 1 tsp Basil
> 1 cup Mozzarella > 1 tsp Oregano
> 1/2 cup Red Wine Vinegar
> 1 cup Red Onion > 1 tbsp Garlic
> 1/4 cup Lemon Juice
INSTRUCTIONS
1. Dice tomatoes and mozzarella into bite sized pieces and set aside in a medium bowl.
2. Mix vinegar, lemon juice, herbs and garlic together into a large bowl. Chop red onion into small pieces and add to liquid mixture, stir until combined.
3. Add tomato and mozzarella into large bowl and mix until fully coated. Place in your refrigerator until ready to serve.
*Recipe yields about 5 servings. This dish is best served cold so the flavors can fully develop.
Roasted tomatoes sauce
INGREDIENTS
> Tomatoes > Garlic Cloves
> Basil > Olive Oil
> Oregano > Rosemary
INSTRUCTIONS
1. Preheat the oven to 275 degrees and line a baking sheet with parchment paper.
2. Core and cut tomatoes in half and lay on baking sheet, cut side up. Drizzle with olive oil and your choice of fresh herbs. Add garlic cloves to tray.
3. Roast tomatoes for 1-3 hrs. Roma Tomatoes will take about 1-2 hours to roast, whereas, Heirlooms will take about 2-3 hours.