GARDEN BLOG
Potatoes in bloom
Potato plants in bloom are the first sign that you can begin to harvest your taters!
They will be much smaller at this point but have a smoother, moist taste to them. The skins have not fully developed which means they will not store as long as full-sized ones.
For full-size potatoes you'll want to leave them in until the foliage has died back and then wait 2 more weeks for the skins to develop.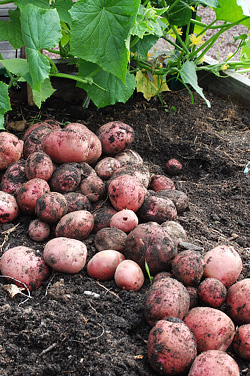 Here is a great recipe for new potatoes.
Lemon-herb oven roasted potatoes
Makes 6 servings
1/4 c canola or safflower oil
2 Tbsp fresh lemon juice
3/4 tsp dried oregano
3/4 tsp dried thyme
1/4 tsp paprika
1/2 tsp ground black pepper
1/2 tsp salt
3 lbs small red potatoes, skin on, diced
1. Combine oil, lemon juice, oregano, thyme, paprika, pepper and salt; mix well. Add to the potatoes in a large bowl. Toss.
2. Line a broiler pan or baking sheet with foil, shiny side up, and spray with vegetable oil spray. Bake 45 minutes at 425 degrees, turning every 10-15 minutes, or until very brown and crispy.