GARDEN BLOG
Horseradish—Yeah, you can grow that
This upcoming spring I will be adding more perennial vegetable crops to our corporate garden. Perennial crops (as opposed to annual crops) will come back year after year. One lesser known example of these perennial vegetables is horseradish.
While most people might be more familiar with other more common perennial vegetable crops—e.g. asparagus and rhubarb—horseradish is often overlooked despite being both easy to grow and a long-lived perennial. (Note: the list of perennial crops is longer than this and I will be writing about some lesser known perennial vegetable crops in the weeks to come.)
When perennial crops are mulched and cared for you will be surprised how little effort you need to put into them.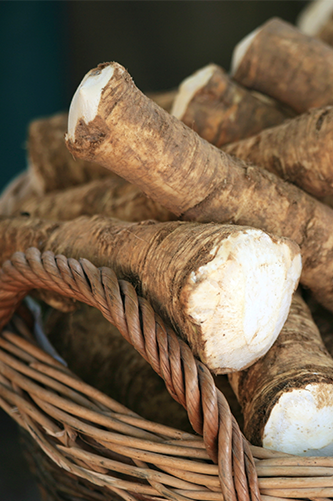 Late winter or early spring is your best bet to find and plant these roots. As soon as your soil can be worked, dig a furrow about 4 to 6 inches deep and place your root cuttings diagonally in the furrow, cut side up, every 12 inches in the furrow. Horseradish plants get quite large—3 to 4 feet tall by 3 feet wide—so be sure to give them some space. Make sure you plant your horseradish in a permanent spot because once they are established they will be difficult to get rid of.
A small harvest can be taken in fall, the same year as planting, but it is best to let your horseradish grow one whole season and harvest the second year. When harvesting, dig up the whole plant and harvest the larger roots. Save the smaller pencil thin roots for replanting.
So find a spot in your garden where you can have a perennial edible crop come back year after year!
Since the winter months are among us, we could all use a recipe that'll help boost the heat. Horseradish sauce anyone? Here is a simple fresh horseradish sauce recipe that goes great with roast beef, grilled steak or salmon:
Horseradish sauce
Makes 1/3 - 1/2 cups
Ingredients
1/4 cup fresh grated horseradish
Juice of 1 whole lime
1 pinch salt
1 tbsp heavy cream
Directions
Mix all ingredients together in a bowl.
Taste. Adjust seasonings (if necessary).
Serve the same day.