GARDEN BLOG
Basil basics
Who doesn't love basil? It's super easy to grow and just keeps coming as long as you keep harvesting.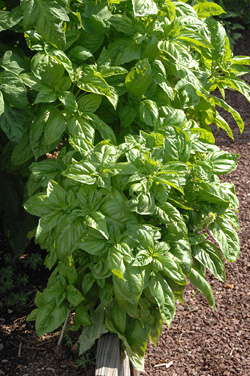 You can easily direct sow basil seed into your garden or, even easier, you can buy small transplants to get a head start. If direct seeding, I recommend several sowings throughout the year just to ensure you have fresh plants for the whole season.
And don't worry about how you'll use all of it—the options are nearly endless. You can use your basil fresh, dry it, or let it flower for an ornamental pest deterrent in your garden.
And if you're looking for a simple way to incorporate basil into your kitchen, basil pesto is one of the easiest recipes to make. Simply throw handfuls of basil with extra virgin olive oil in a blender/food processor and mix. At this point you can add pine nuts and parmesan cheese. The pesto can easily be frozen in containers to enjoy throughout the year. If you do decide to freeze the pesto to use at a later date, I recommend omitting the cheese as it doesn't freeze well. Whenever you decide to use it, defrost and add in the cheese at that point.