GARDEN BLOG
A is for Arugula
Say goodbye to your bagged salads and consider planting some fresh arugula in your garden. Its peppery flavor gives it a distinct taste that many other salad greens are missing.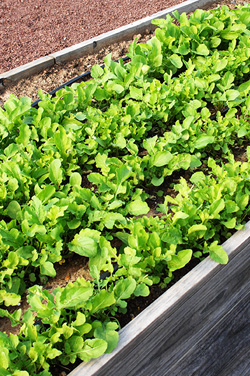 Arugula is one of my favorite specialty greens for many reasons. First, it is one of the fastest growing greens out there; baby leaves are ready in only 3 weeks from direct seeding. A second flush of fresh leaves will come about a week or two later.
Better yet, arugula is also very healthy. Arugula is a good source of folic acid, vitamin A, C and K.
You can mix arugula with other salad greens, add it to a sandwich or have a straight-up arugula salad with a good vinaigrette dressing. No matter what way you prepare it, you will definitely enjoy this salad green that is loaded with flavor. So consider planting a row of arugula in your garden if you want a leafy green with tons of flavor.
Below is one of my favorite quick arugula salad recipes:
Arugula Strawberry Salad
Mix arugula greens with sliced strawberry
Toss everything with a balsamic vinaigrette dressing
Top with some shaved/shredded parmesan or crumbled goat cheese
Enjoy!